In celebration of the nearly-here

spooky holiday

, I decided that one post for one cupcake wasn't enough! Therefore there will be several Halloween-y posts tonight and tomorrow...at least *two* of which will involve some

BOOtiful

sweet treats. :)
To find the first piece of scary snackage, we're heading back to

Roaring Fork

at the Wilderness Lodge. The Lodge is one of my favorite places to go to write letters and just generally be cosy. I meant to only buy a sandwich, but then this cute caramel chocolate cupcake caught my eye, and I was sold...
I mean, after all, it had super cute Halloween

sprinkles

!!
On the left: more cupcake action. On the right: the sandwich (turkey and havarti with dill on focaccia...mmmmm...)
I started taking pictures of the beautiful chocolaty icing, and I just couldn't stop...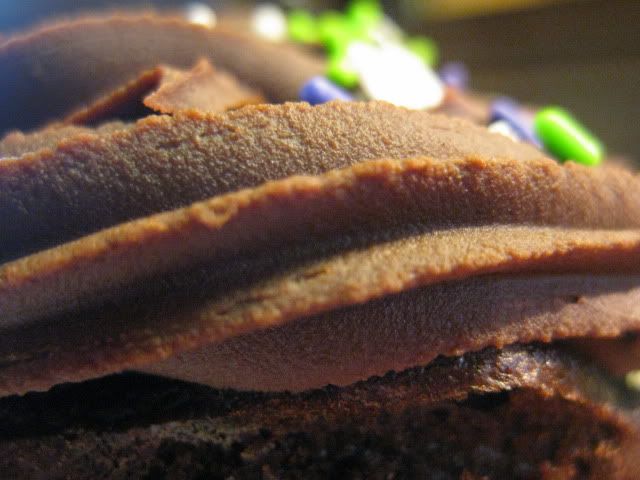 Look at how pretty it is!! I almost couldn't bear to dig my fork into it and ruin those

gorgeous chocolate swirls

!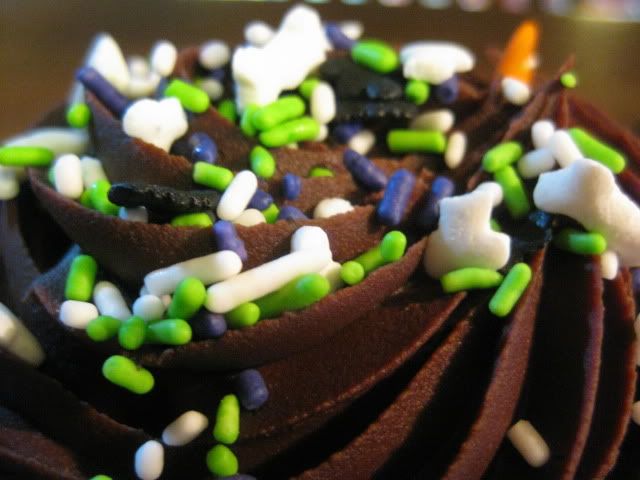 Plus the sprinkles are just adorbs. Little bats, pumpkins (what do you think, is that a hidden mickey in the middle of the pumpkin sprinkle?), lime green and purple -- the only sprinkle that puzzled me was the white one.
I was expecting a ghost, but it seemed to be a bone. Like a dog bone...or maybe a skeleton bone? Oh well, I still like it!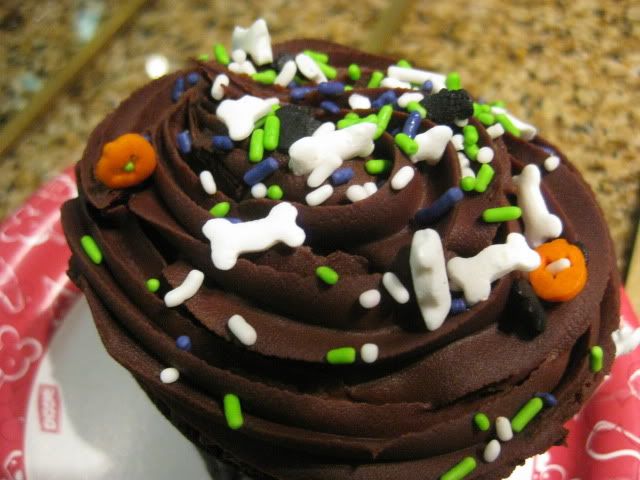 When I finally did bring myself to cut into it, the taste was just as heavenly as the appearance. The icing was

good Disney chocolate

. I bet you know what I'm talking about...like the icing they put on really good brownies. The cake was moist and lovely, plus there was caramel in the center!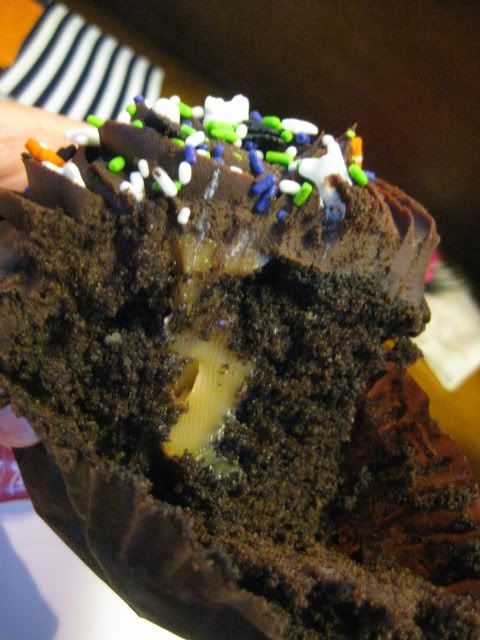 It was a nice amount of caramel too, soft and lovely. This cupcake gets two enthusiastic snobbish thumbs up!
Coming up...MNSSHP Costume Watching and a

PUMPKIN

cupcake from my favorite cupcake eatery on property (can you guess where??) ;)