I've always had a thing for red velvet cupcakes. I'm not sure why.
Maybe it's the cream cheese icing - creamy with just a hint of tang. Maybe it's the name, "red velvet" just sounds so elegant. It's funny that red velvet is so popular when really the batter is just the same as chocolate cupcake batter - only with a little less cocoa and some red food coloring!
Whatever the reason for my red velvet penchant, I knew I couldn't resist this beauty that I saw in the Main Street Bakery case:
Of course, really everything in that case looked irresistible...the Oreo cupcakes, the brownies in the foreground. Don't even get me started on the cinnamon rolls. Every time I walk in the Main St. Bakery I wish for a second stomach. Maybe even a third. ;)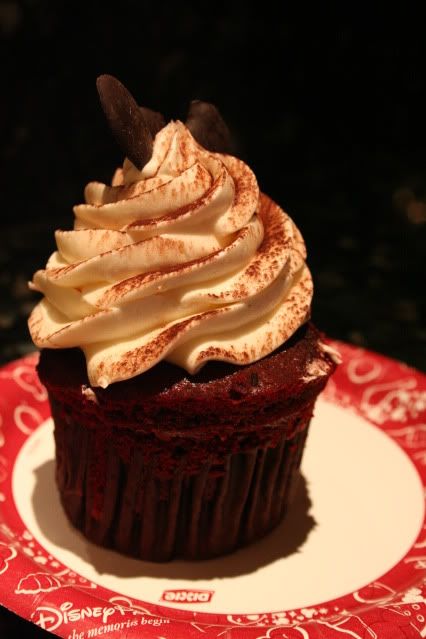 Today's treat, though, was this red velvet lovely. It even had Mickey ears on!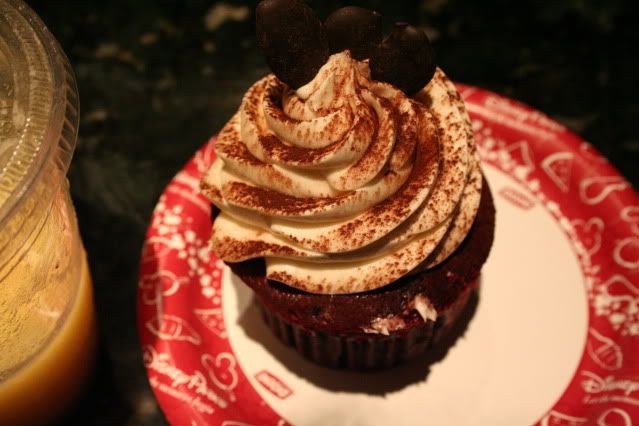 An aerial view. I also had a tropical smoothie from Auntie Gravity's...the perfect thing to wash a cupcake down with! lol.
Halfway through! It was a rather mountainous cupcake! A little bit dense on both the cake and the icing, but still yummy - overall I'd give it a 9 out of 10.
And since I was at the Magic Kingdom, I thought I'd share at least one castle photo! After my cupcake snack, I could hear the castle show going when I came out of the bakery. I was leaving the park, but I thought I'd just go up to watch the princess part before I headed out.
So now I leave all you blog readers with some dancing princes and princesses, to brighten up the coming week!
For newer cupcakes from the Starbucks Main Street Bakery,
click here!