So if you've read my trip reports on the DIS, you'll know that I'm part of a

big family

. Usually when I visit Disney I've got my parents and four brothers tagging along! Now when I go places, sometimes I'll meet up with a friend, but mostly it's just me.
Being

solo

at Disney can be a lot of fun -- you can go wherever you like without having to consult anybody else. But every once in awhile, especially when I first got here, I would feel a little lonely wandering the parks, wishing my fam could be there with me.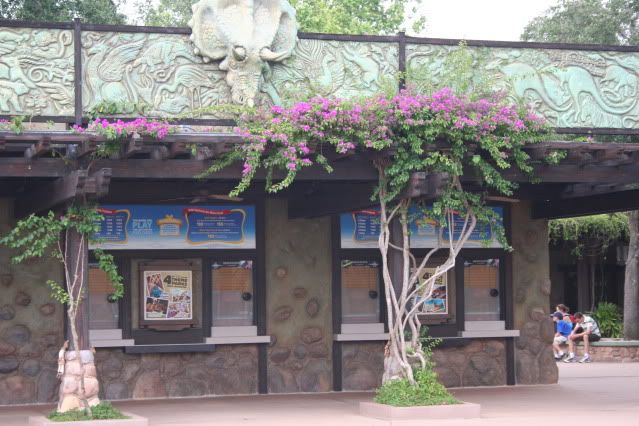 I was feeling that way one day at the Animal Kingdom...
I had just strolled through a Himalayan village and ridden Expedition Everest, narrowly avoiding a giant Yeti. In the gift shop I wasn't planning on buying anything, but then I saw

this little guy

, and I knew I'd found a new friend...
lol, a mini yeti can be a friend, right?? I love the way his little arm and hand are posed in that funky upward position. It looks like he's saying "

YO girl! What up??

"
Plus he has sparkly teeth. How could I resist that? So I bought him.
My trip reports almost always have a mascot, so I think this yeti is going to be my

blog mascot

. He's actually a little key chain, so I can just hook him on to my bag when I'm going into the parks, and I have a funny, furry little companion!
I decided to name him Yo the Yeti. Here he is trying to scare the people on the train. He is an abominable snowman after all!! ;)
BEWARE. There are yeti's hiding all over the place around the Animal Kingdom park.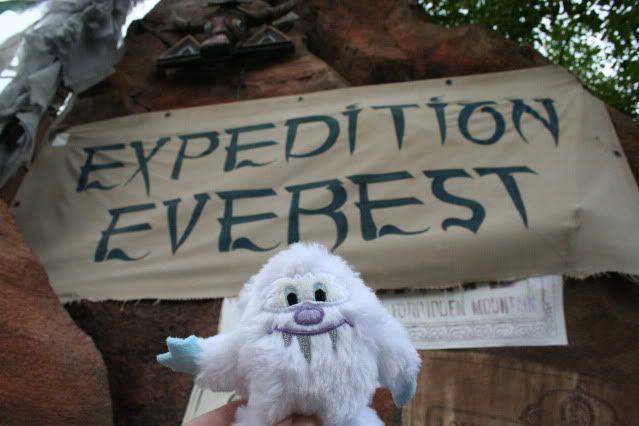 Yeti's with

sparkly teeth

. And purple noses.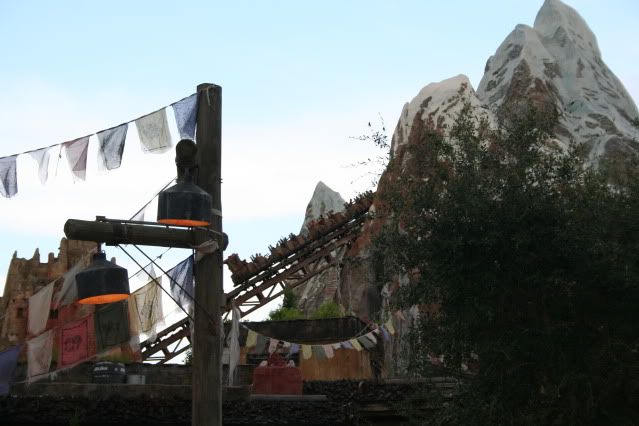 We bid the forbidden mountain adieu and went to see what was happenin' in the rest of the park.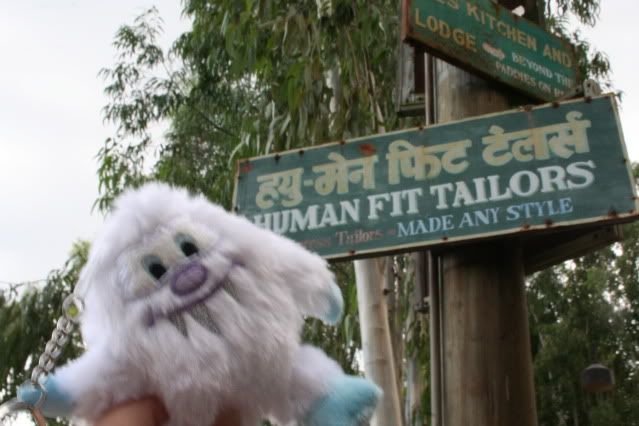 "Human Fit Tailors -- does that mean they couldn't make me a suit??"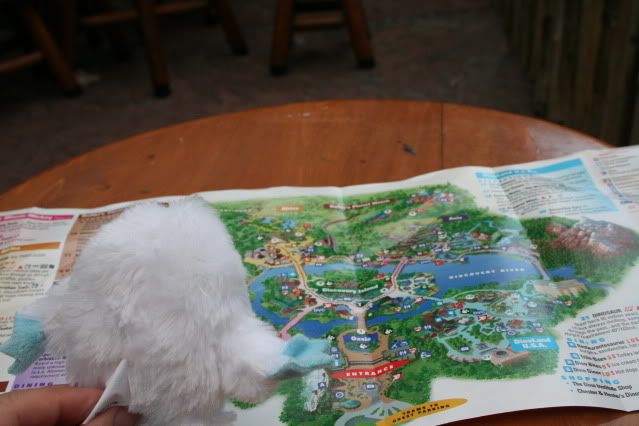 "Hey! It's just like the Yak and Yeti restaurant...you have a yeti, now let's find you a yak!"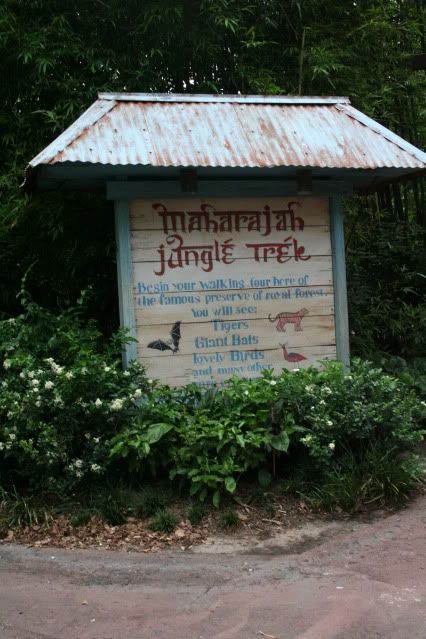 So we embarked on a

jungle trek

. I was pretty confident we weren't going to find any yaks though. ;)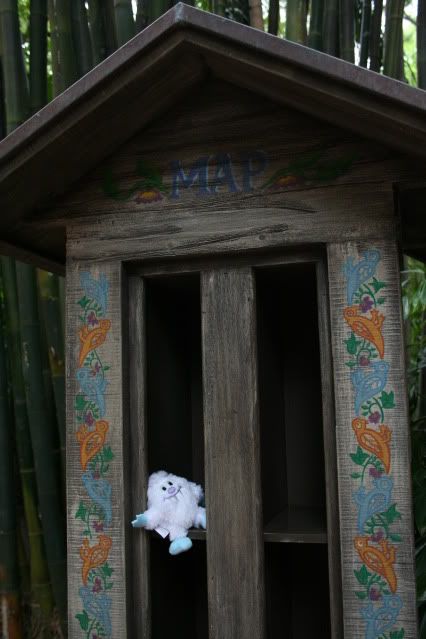 "No maps?? What is this? How do they expect us to find our way through the dangerous jungle?"
They have THE awesomest

umbrellas

on the Maharajah trek and in the Asia area in general. Seriously, I want an umbrella with fringe and baubles like that, so pretty!
Walking through the bat area...
Don't let the bats out!! Keep this latch closed!
The Maharajah Trek really has so many beautiful

details

-- I want to go back again to see what else I might've missed. It would be really cool to take engagement photos back here.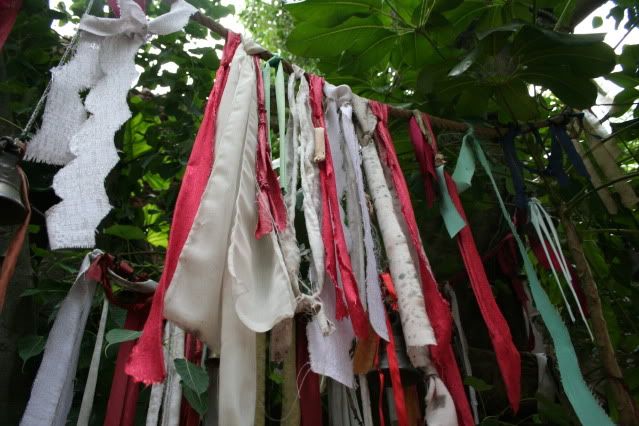 This was a prayer/wishing tree I think. You tie on a piece of cloth or a little bell and make your wish. When I was studying in Ireland I saw a fairy tree -- the same idea, people would leave a ribbon or a little gift, and also leave a prayer. I bet they having wishing trees in lots of cultures!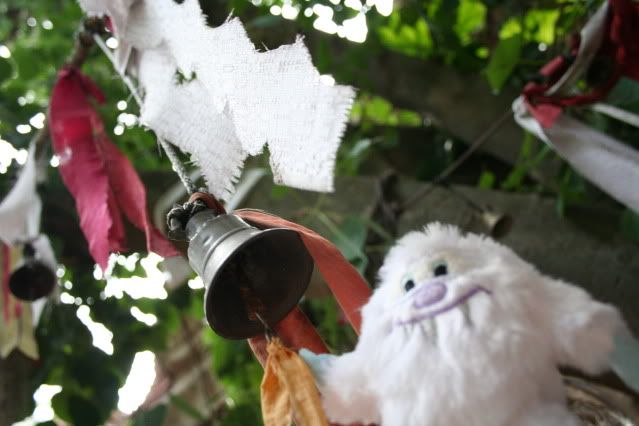 Yo kept on ringing this bell!
In the tiger viewing area.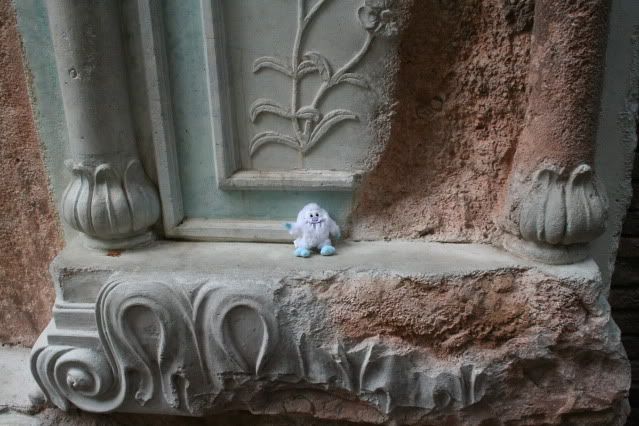 There are SO MANY interesting backdrops here! See, just imagine Yo was a newly-engaged couple instead of a tiny fluffy yeti, wouldn't it be such a cool shot? lol!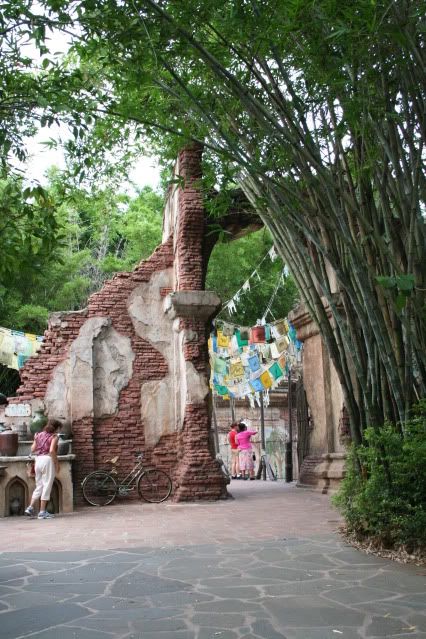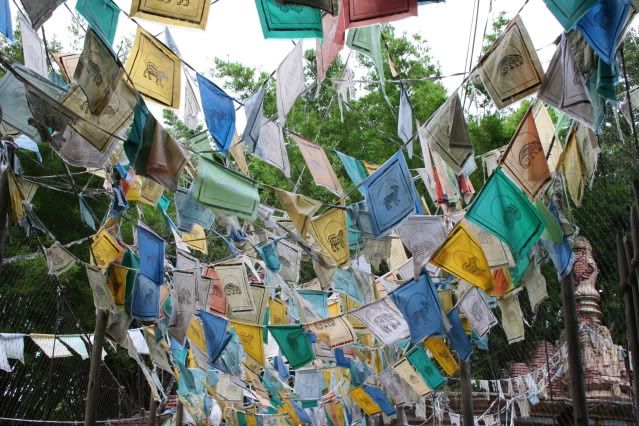 This was my desktop background for awhile!
The floor in the bird area looks like a chessboard!
Soon we came to the end of the our jungle trek, and Yo and I headed back on home. But don't worry, this is only the first of Yo's adventures, he'll be showing up on here every once in awhile. :)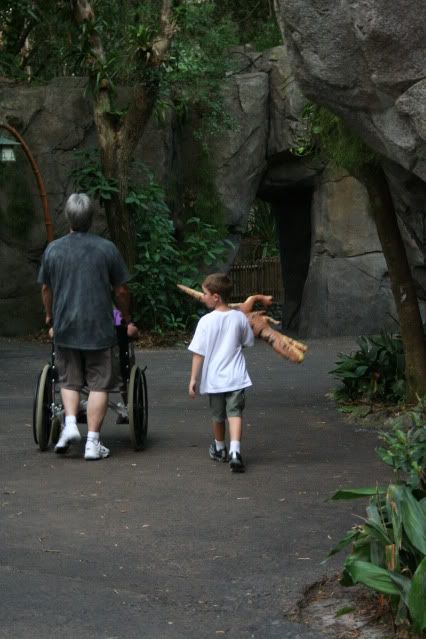 One last picture from my AK day, because I couldn't resist...a little boy carrying a t-rex almost as big as him. So cute.