Ready for some more

spooky faces

from Main Street?
A classic jack hanging out next to the Confectionery sign.
Many of the shops have pumpkins hanging out over their entrances that are themed specifically to their shop. I guess the

Confectionery

doesn't have any themed pumpkins...unless these guys are supposed to illustrate what happens when you eat

too much sugar

?? lol!
Such a pretty autumnal swag running along outside the Confectionery. I have serious

decorating envy

whenever I come to the Magic Kingdom...it's only going to get worse when the Christmas stuff goes up, I'm sure!
Inside the Confec. there are some cute displays as well!
...and some tasty fall treats!
The corner entrance to the Emporium already looks cool. Once you add decorations, it's just fabulous!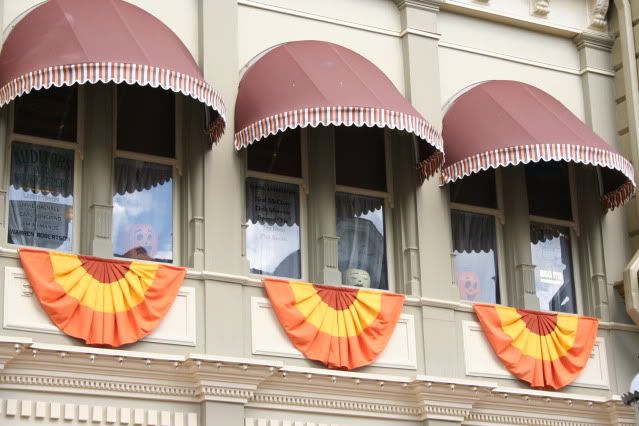 There are even a few jack o' lanterns inside the windows -- they're a little harder to spot b/c of the reflection.
Haha, I love the little stern-looking fellow on the left.

Guarding

the crystal inside the shop maybe?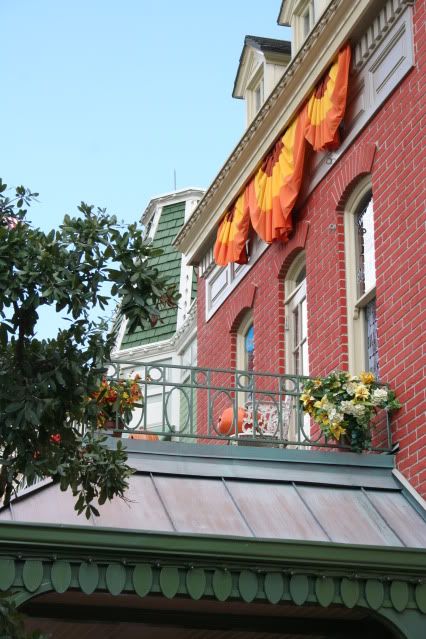 More pumpkins hanging out up on ledges and balconies, watching the Main St. days pass by - one is even sitting on a chair!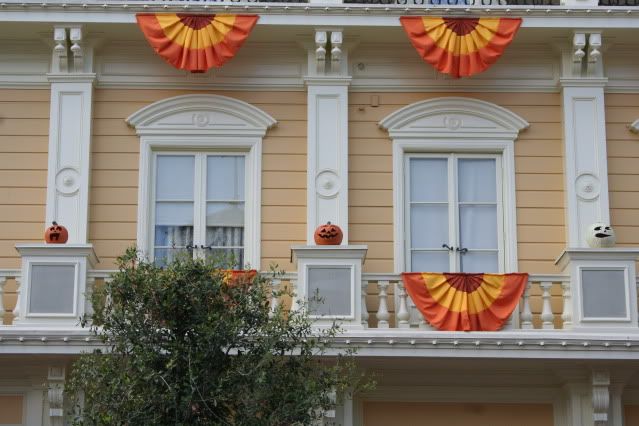 It was actually really fun just strolling along, taking pictures and noticing all the Halloween decor on Main St. Probably all the groups rushing by thought I was crazy, blocking up the sidewalk and taking endless pictures, but it was really

relaxing

!
I took a peek inside the

bakery

...I've heard they do have special Halloween treats there too, but I didn't spot them. One year at the Halloween party we had these delicious cakes shaped like pumpkins and ghosts, but maybe they're only out at MNSSHP?
There's a football and a soccer ball pumpkin over the entrance to Main St. Fashion Apparel. I'm surprised they weren't over the Hall of Champions, though - it seems like they would belong more there!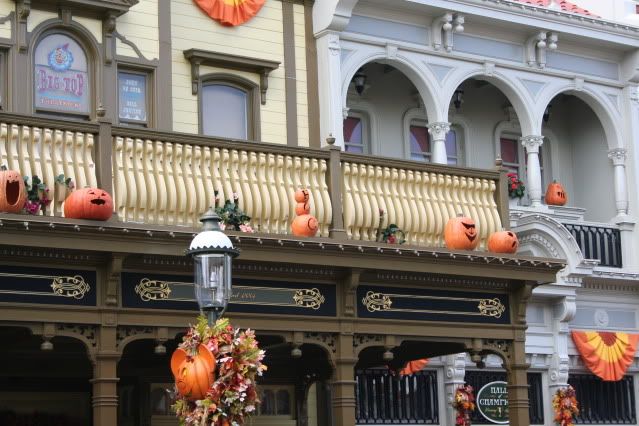 There's the

Hall of Champions

! That triple-stacked pumpkin said "HOC"
Here's a

mystery

maybe you guys can help me solve. I stood below these windows for about 5 minutes trying to figure out

*what* exactly was carved on those two pumpkins

. Here's a close-up:
Something that's been broken in two? Outlines of a state??

What do you guys think?

The "businesses" on the windows around the pumpkins were "Sully's Safaris and Guide Service" and "Bob Matheison Community Service Repair Center," but the designs on the pumpkins don't particularly seem to be themed after either of those...
There are lots of cute jack o' lanterns around the

ice cream parlor

, and it's not hard to figure out what they have carved on them!
Ice cream cones and dishes!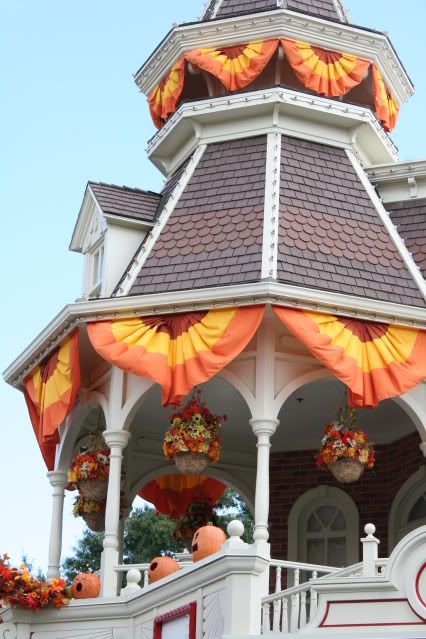 The cupola (the pic on the left) over the Ice Cream Parlor was so charmingly decorated...I love those

baskets of bright autumnal blooms

.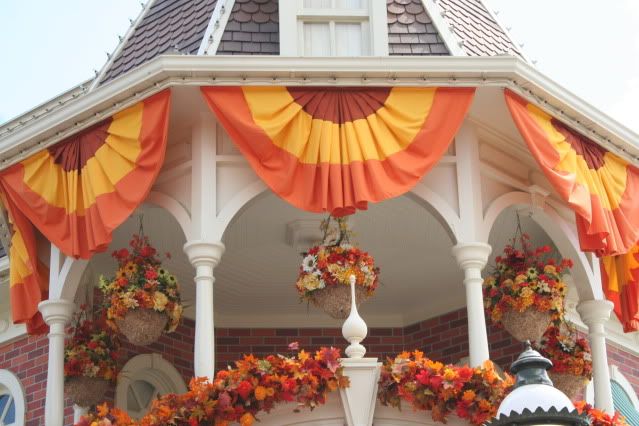 It makes me want to make a trip to Jo-Ann's and try to make one for myself!
There were lots of Casey themed pumpkins too, with fries and drinks and hot dogs decorating them!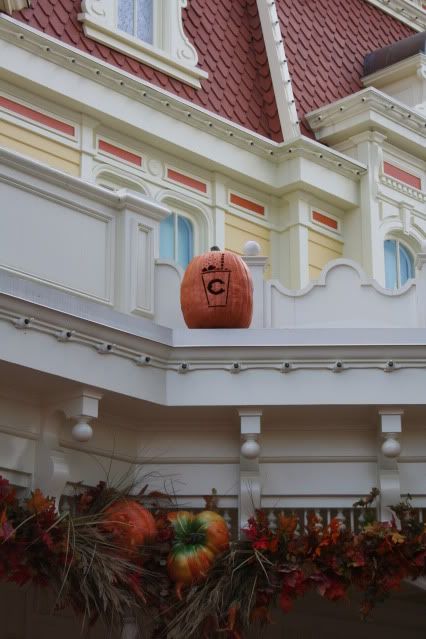 Of all the faces on the Main St. pumpkins, few of them are traditionally "Disney" faces...you know, they don't have eyes or mouths like Disney animated characters have. But up there over Casey's I think I spot

one face that looks familiar

, don't you?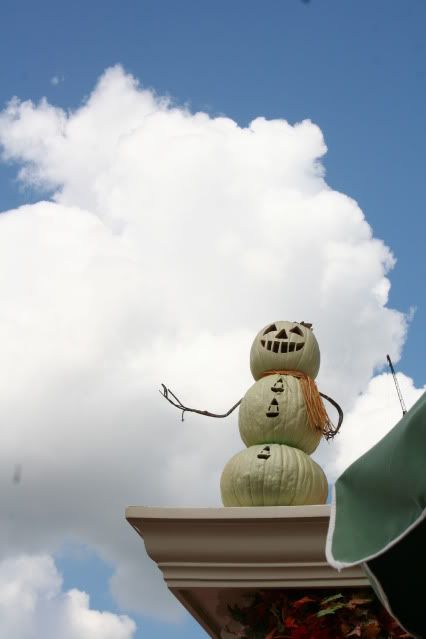 There were some jack o' lanterns that were reminiscent of the

Nightmare Before Christmas

over the pin stand opposite the tip board! What do you think -- is that a Jack Skellington key in the pic on the left?
These jack o'lanterns were standing guard over the

tip board

! I tried to do some google-ing to see if they might represent any Disney legends, but I couldn't find anything on the tip board pumpkins. One person guessed that they looked like the

Main St. Barber Quartet

-- the third fellow from the left does look like he's crooning out a tune!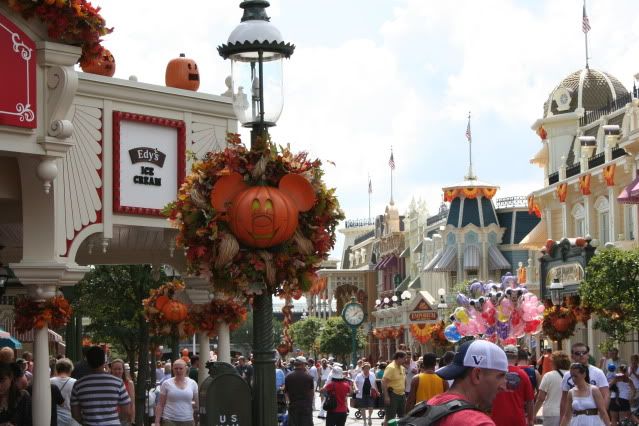 Well after this post you poor readers are probably entirely sick of gourds and orange and pumpkins, lol! If you have a guess about what some of the jack o' lanterns might be, or a request for a pumpkin from another part of the MK or WDW, do chime in in the

comments

!
Hope it's a spook-tacular day!