Hey all! So now that

October

is here, and it's *really* time to start getting excited for Halloween, I thought I'd do something on the blog to celebrate.
Every time I walk down Main St. at the Magic Kingdom I'm amazed at the number of

pumpkins

and jack o' lanterns decorating every corner and peeking out of every window, so I figured to celebrate the spooky month, I'll do a series of photo posts throughout October featuring different Disney pumpkins!
What better place to start than the beginning? The main entrance that is!
This autumnal display is outside the security gates. It gets everybody who's going to the

Halloween Party

more excited and makes everybody who isn't going wish they were, lol!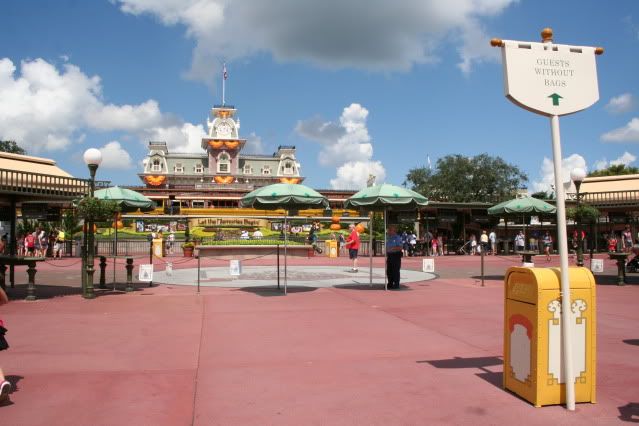 I think there are some more

pumpkins

up there under the train station!!
Disney sure knows just how to make a jack-o-lantern absolutely

adorable

!!
Seriously, I want to be best friends with these pumpkins. They look like they're having so much fun - like they're about to spring out and join the trick-or-treat lines at one of the parties!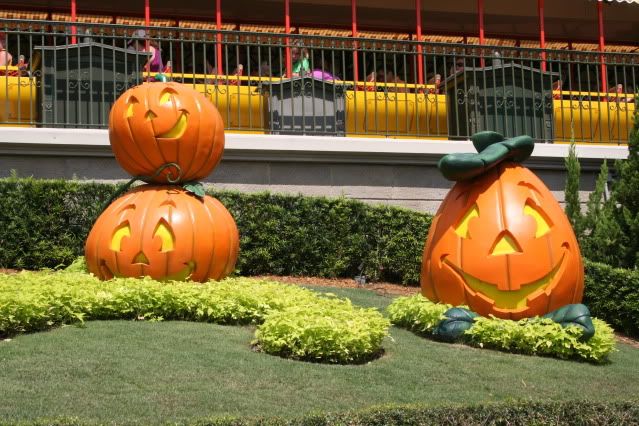 A few more friendly orange faces. I like how the guy on the right has a leaf for a hat!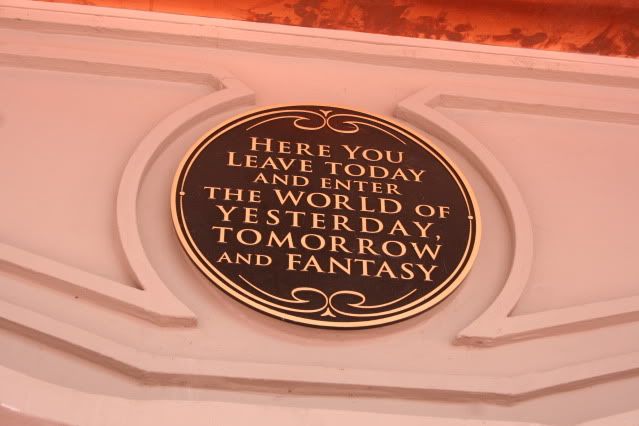 Not a pumpkin, but a lovely little sign over the tunnel under the train station. So often you're rushing through you don't even look at it. But today, since I was just there to take some fall photos, I happened to notice it. It's so true. You do leave "today," leave the "real world" when you come into the MK!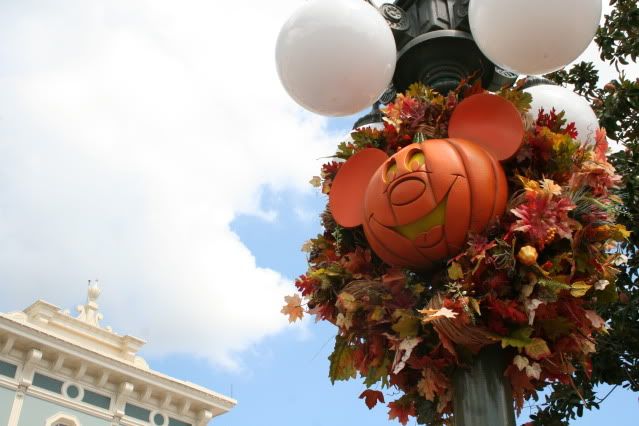 Another happy pumpkin -- and this one has

mouse ears

! These guys decorate most of the street lamps on Main St. I was taking a closer look, and the fall foliage surrounding the pumpkin is pretty neat too -- it's full of little pumpkins and gourds!
See, this one had little wooden candy corn cut-outs!
More leaves and gourds decorating the Exposition Hall!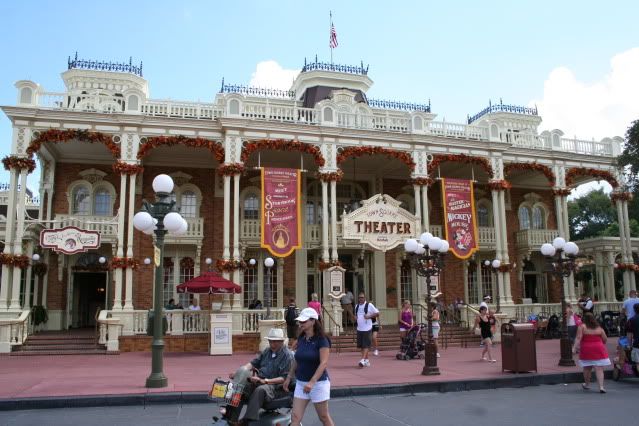 Although, I guess it's called the Main Street Theater now?? That's what the sign says anyway...
I know I titled this post "Main St. Pumpkins" but I just couldn't resist sharing a few pics of these pretty

autumnal swags

!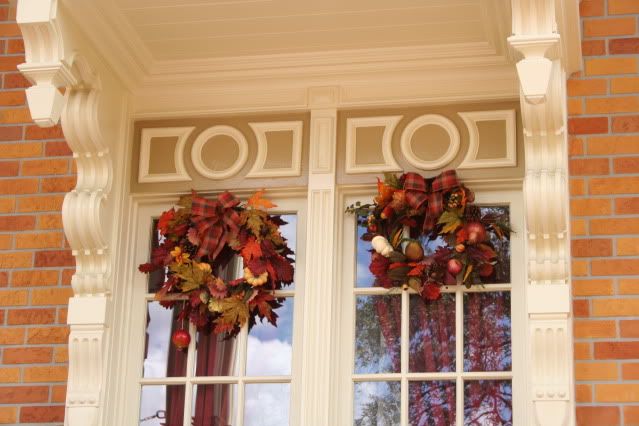 More wreaths on the windows of the Exposition Hall!
This wreath is bursting with harvest fruits! I spot a pear, an apple, a pomegranate, and - I do believe that's an artichoke right there. Only Disney could add an

artichoke

to a wreath and make it look

entirely elegant

.
I love these ones that are dressed like the cast members in the Confectionery -- so adorable!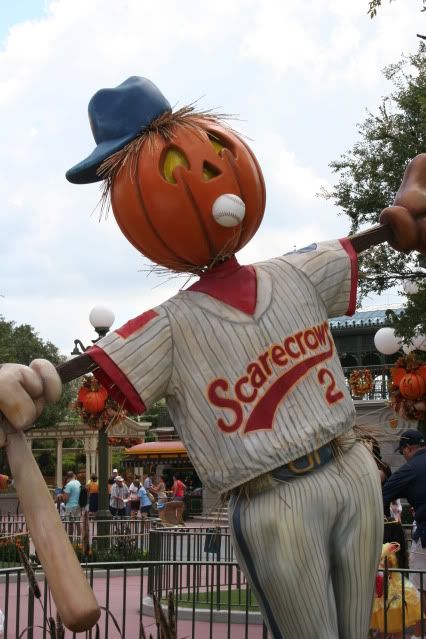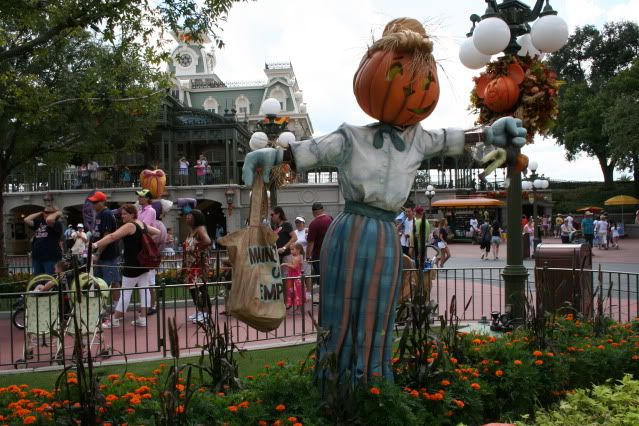 I think this girl might be my favorite scarecrow!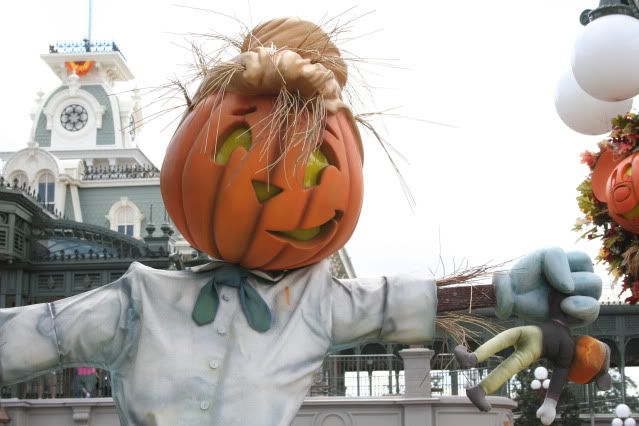 She's just so sweet -- and I love the Mickey doll!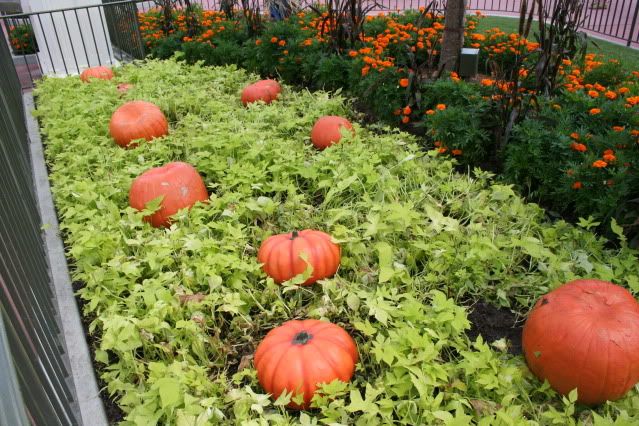 Town Square has been turned into a pumpkin patch for the fall months!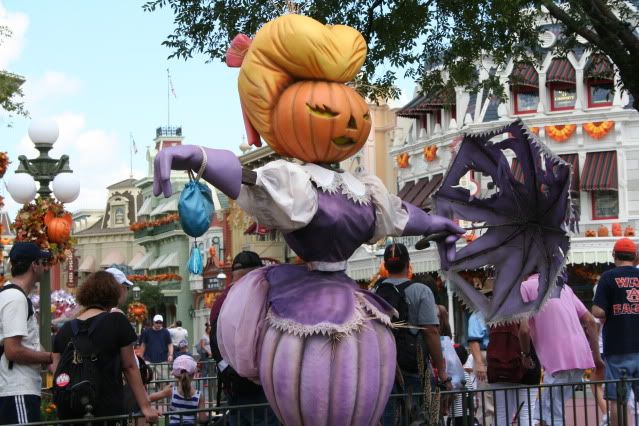 Very sophisticated...but I've always thought she looks just a little sinister, like one of the Haunted Mansion dancers!
The mayor of all the Main Street pumpkins!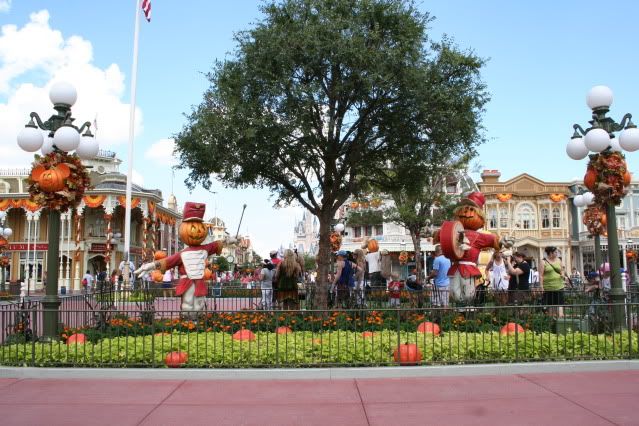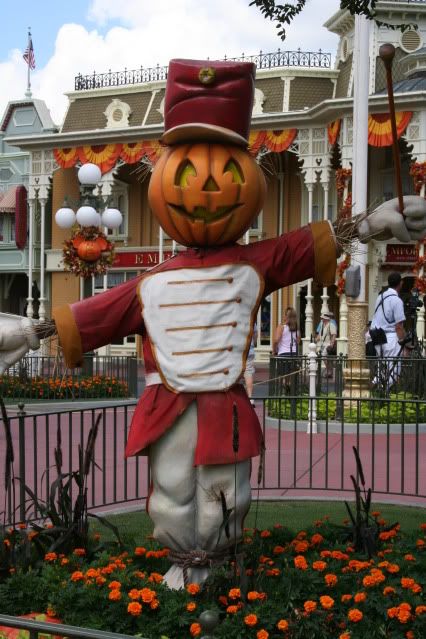 Having been a member of the oldest (and best, in my very biased opinion, lol!) university band in the land myself, I always love to see an homage to fellow

marching musicians

!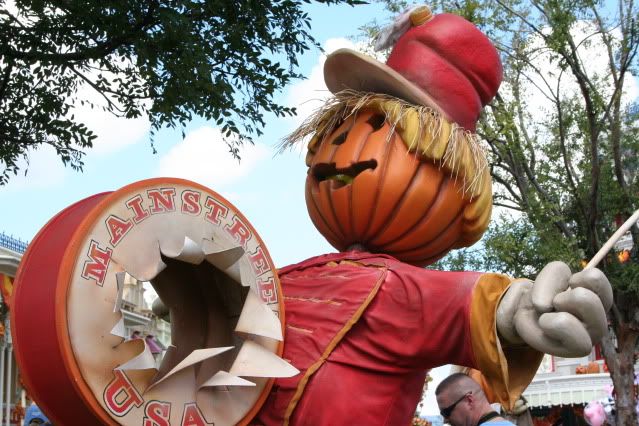 I think this drummer might have been a little over zealous in his drumming!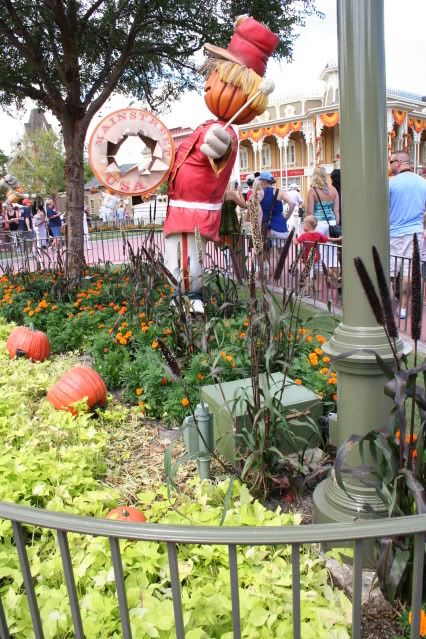 Love those black cattails too!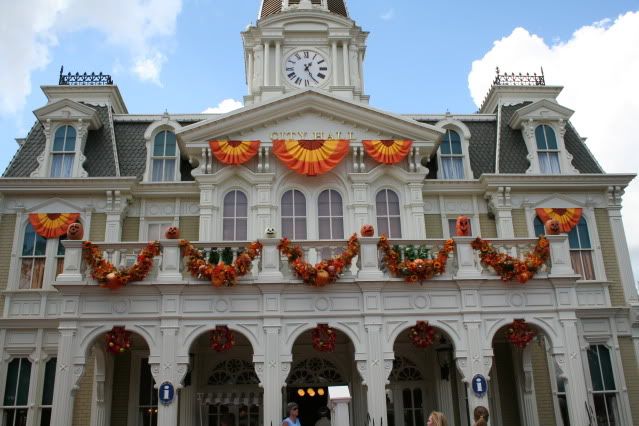 Don't worry

City Hall

, I haven't forgotten you! I love those six little jack o' lanterns standing guard on the balcony -- and how the swags have big pumpkins in them!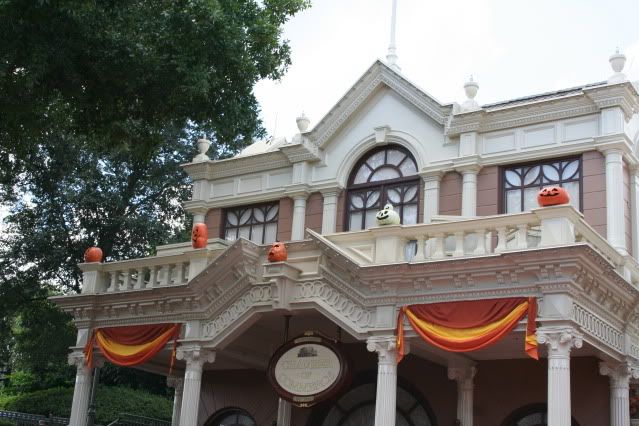 A few more pumpkin friends.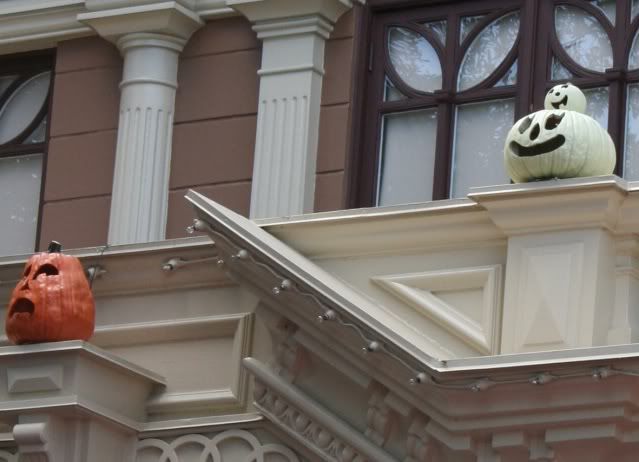 That white double jack o' lantern was one of my favorites!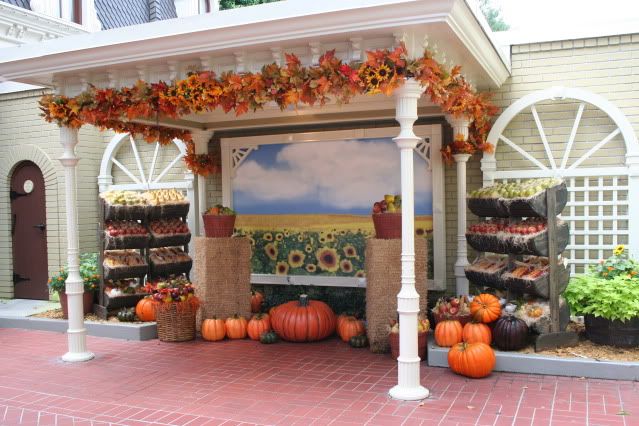 One last picture for today -- this little photo spot is tucked back in one of the nooks behind City Hall. They sometimes have characters greeting there during the day -- and I'm sure they have characters there during the Halloween party!