WELCOME to a virtual version of

Mickey's Not-So-Scary Halloween Party

. I'm Emma, your host -- your ghost host! ;)
If you're in a

candy coma

from trick or treating, this (longish!) post is a Halloween nightcap just for you! Although I never technically attended MNSSHP this fall, I did get a piece of the action by visiting the MK on party nights right before the park closed to the public.
See, the party may "officially" start at 7, but the clever party-goers know to arrive around 5 or 5:30 to take advantage of the light for pictures and to miss the long entrance lines (and believe-you-me, the line to get through security and get a wristband after 7 pm was something fierce!
The first signs that something special is going on are

two giant pumpkins

perched on top of the Magic Kingdom gates!
I love that they add these decorations on party nights -- it really gets you excited and feeling festive!
Next up you'll find some

specially-dressed cast members

waiting at the front gates! I entered the MK around 5:45, and these guys were already out, ready to hand out wristbands.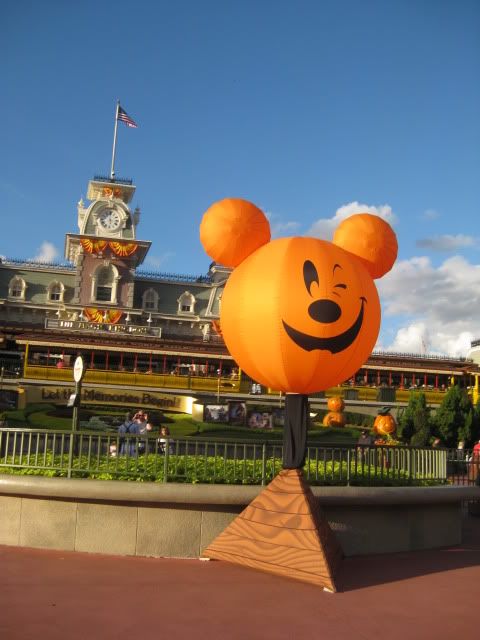 Some more party decor! That winking Mickey pumpkin is just darling...I think he's even cuter by daylight (at night he's lit up in a neon orange!). Cast members on Main St. also had signs welcoming party-goers.
That night it was just a glorious evening!
One of the things that makes this party SO much fun is

all the costumes

. My first fun spotting on this night was the entire Flintstone family -- love it!
At this party it's the guests who add a lot of fun to the evening, just through their awesome outfits. The costumes were what I loved most on my visits recently, and I kept surreptitiously snapping pics to share! Above we've got a Toy Story family (Mom and Dad as Woody and Jesse, with Buzz Lightyear and a LGM in the stroller!), Cap'n Jack and a pirate wench, and the Incredibles!
This was one of the most creative I saw...the little girl in the stroller was Rapunzel, and the Mom and some of the other adults in the party were dressed as floating lanterns from the movie!
Loved this sweet group...

Snow White

in her "rags" outfit and the

Fairy Godmother

.
Walking along in Tomorrowland I spied Captain hook, Peter, Tink, and Wendy!
I noticed Cinderella's Coach photo op was already open, at least half an hour before seven. Another reason to get to the party early -- get some of the photo ops out of the way without waiting!
Something fun was going on over at Liberty Belle...a trick or treat spot maybe -- I loved the Mardi Gras inspired swags!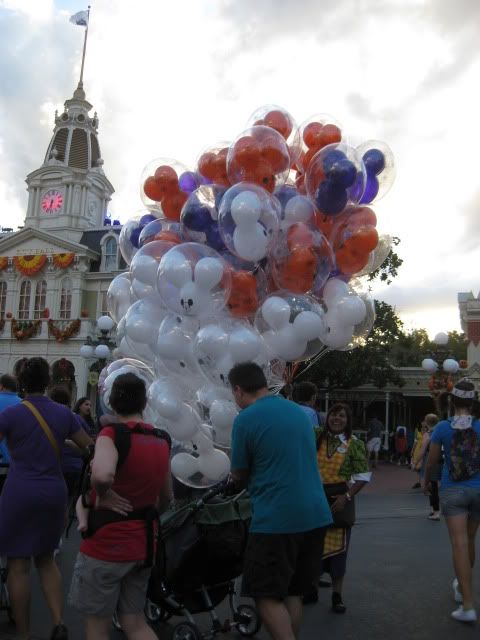 Heading out of the park that evening...I spotted a dad dressed as Prince Charming with Cinderella in the stroller (SO cute!) - and it was fun to notice purple and orange balloons, special to the party!
One last group, arriving as I was leaving...they had Peter Pan, Smee, Tiger Lilly, and Tinkerbell. The group costumes were the most fun!
Now that evening when I was at the MK, the weather was just lovely. Sadly, the skies don't always oblige Mickey for his soiree...
It was drizzly and rather miserable on this Halloween party night last week. But as you can see that didn't deter the party-goers much...there's a teenage mutant ninja turtle standing in the middle of Main St.!
The Dapper Dans looked dapper in spite of the wet, hiding under the marquee!
BY FAR, favorite costumes of the night. And those Teletubbies were probably pretty cozy in the cold rain!
If you've watched the new Tinkerbell movies, you'll know these are two Disney fairies, Vidia and Fawn. They had really detailed, neat costumes too!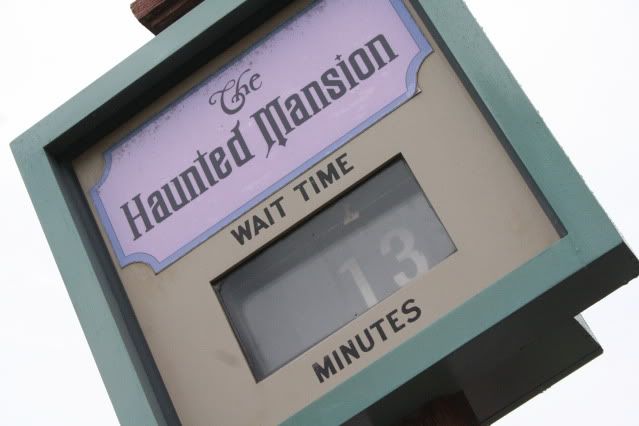 It's not Halloween without a little Haunted Mansion!
In front of me in line at the HM were three costumes that possibly surpassed the Teletubbies for coolest costumes. These three kids had really cool mini cast member outfits!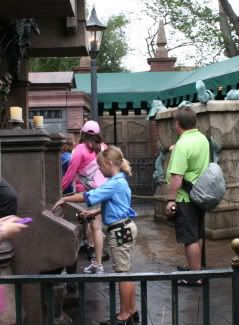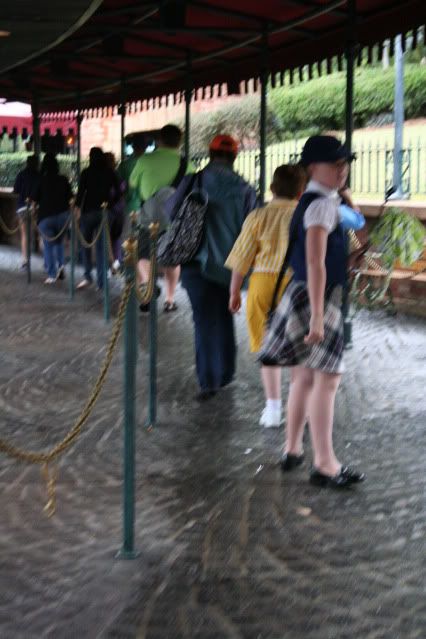 There was a little character attendant (I'm pretty sure that's the blue shirt...I know, I should know this!), a tour guide, and a parking attendant...they even had name badges and pin squares. Awesome!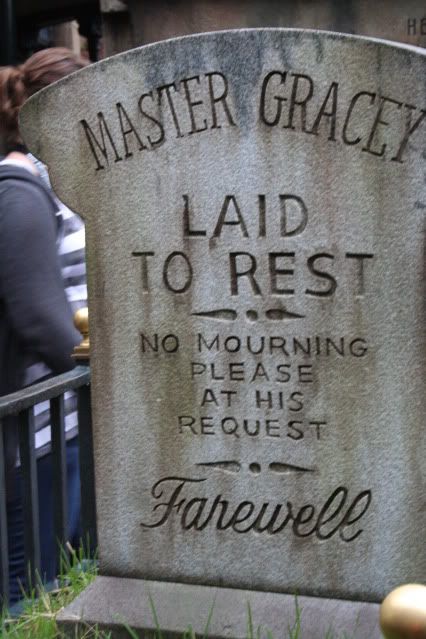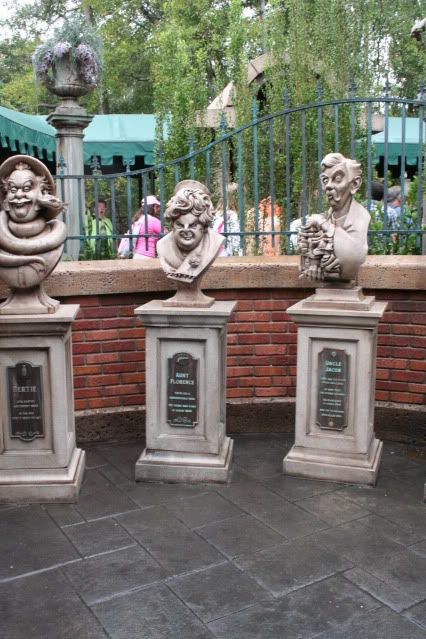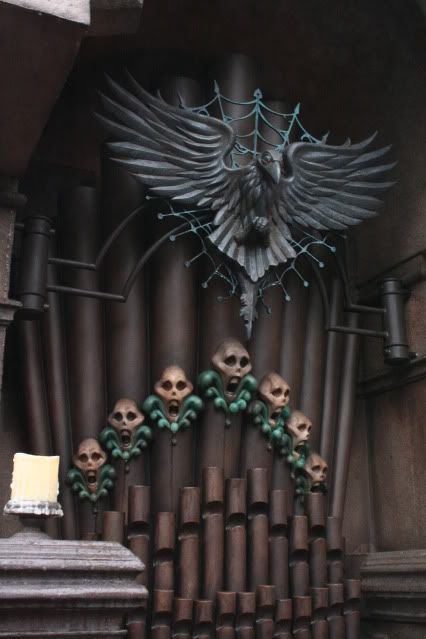 Some more Mansion pics. Master Gracey is the owner of the mansion, and his tombstone is in the new queue area. I don't get the inscription though...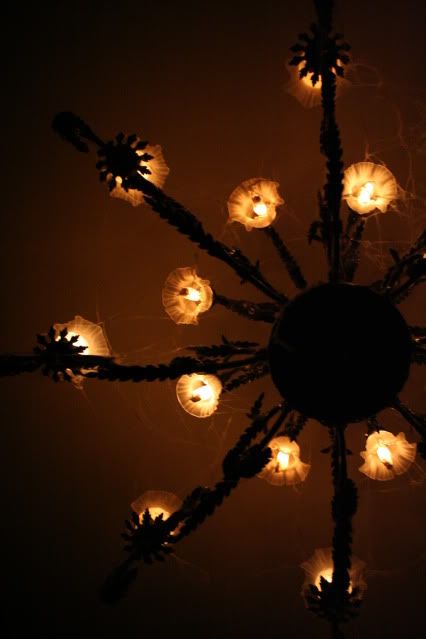 An eerie chandelier and the graveyard before you head in...I didn't realize it stretched so far up the hill.
Gulp...is it just me or is this room STRETCHING?? lol - but I will tell you a secret. The Haunted Mansion always leaves me a little spooked! I like it better when I don't have to ride it alone, lol.
Back outside to the party! (Sorry this is such a long post, guys, I'm trying to fit it all in one!). Anyway, here's a ghostly stairway and bench for the spooky Madame's that come out later in the party!
A ghost horse has been here! Also, check out my super-awesome Halloween socks!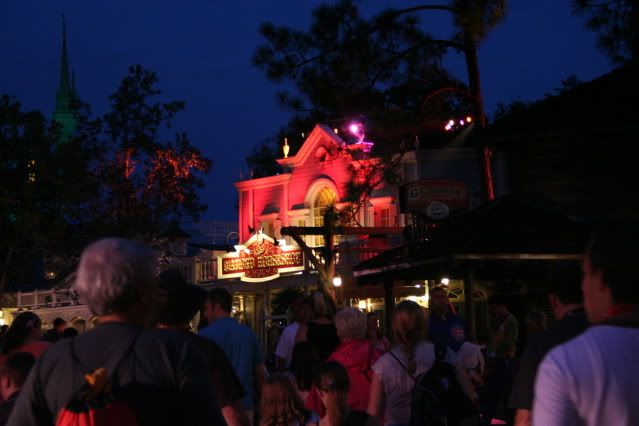 I had some dinner at Pecos Bill's. At 6 and 6:30 the ghost host comes on throughout the park to announce the party is starting soon. By the time I finished my burger it was dark out and nearly 7...time to leave!
I love the way they light up the buildings all spooky-like!
And the castle too of course!
Luckily the rain had stopped and it was turning into a rather nice evening.
Main St. USA looks SO DARN COOL at the Halloween party. It's amazing how those lights really transform it!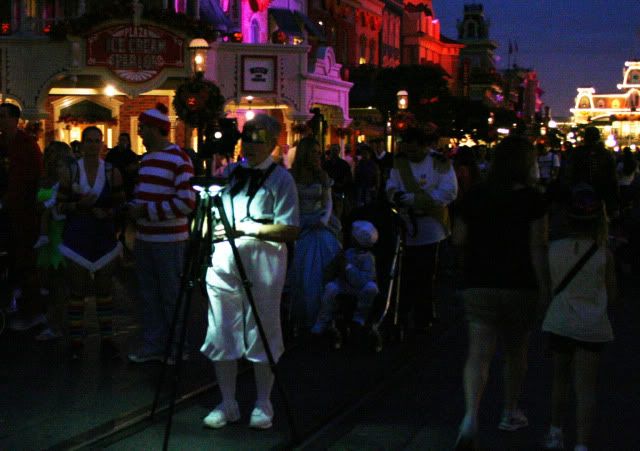 Where's Waldo? Do you see him? Also note the Cinderella and Prince waiting for photopass...in the stroller were two royal pages!
I'm not even going to put a caption under these next pics, b/c they'd all be the same: "COOL COOL COOL."
The clock face in Town Square was orange. Also: light-up neon shoes and mickey ears: so jealous.
Spooookky trees!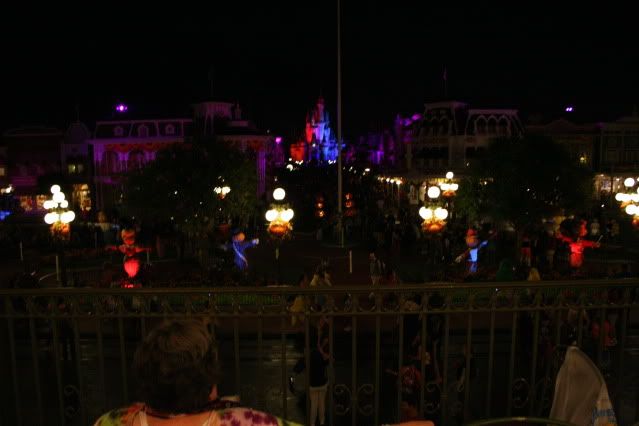 Atmosphere shot from the train station! There were already people camping out...I guess for the parade and fireworks? Seems like they'd miss all the characters and candy if they stayed there they whole time though!
The train station looked very eerie indeed!
That tree grows not only leaves, but spotlights and fog machines too...lol! Also, note how crushed it was! They had crowd control outside security...they would hold everyone leaving to let all the monorail arrivals in, then hold the monorail arrivals to let us out, by intervals. Another reason to get there early though, it was crazy!
Hope everybody had a Happy Halloween!