Bonjour madams et messieurs! Or should I perhaps say: Dia duit! Céad míle fáilte!
It's Food and Wine Festival time, ladies and gents! That means Epcot has about 30x its ordinary number of tasty offerings!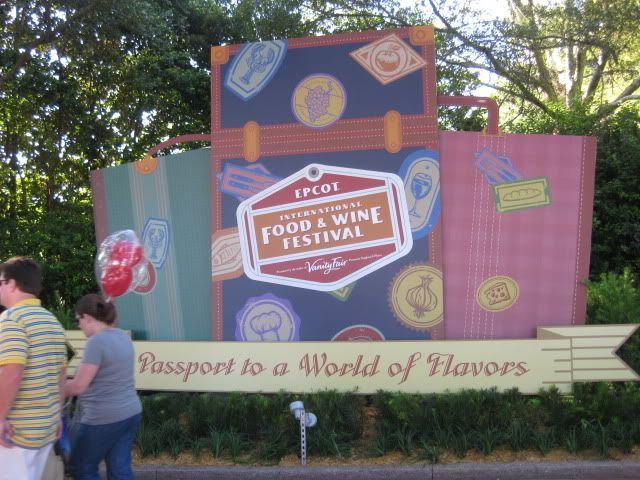 My first night at the Food and Wine festival, the first two things I tried were at France and Ireland!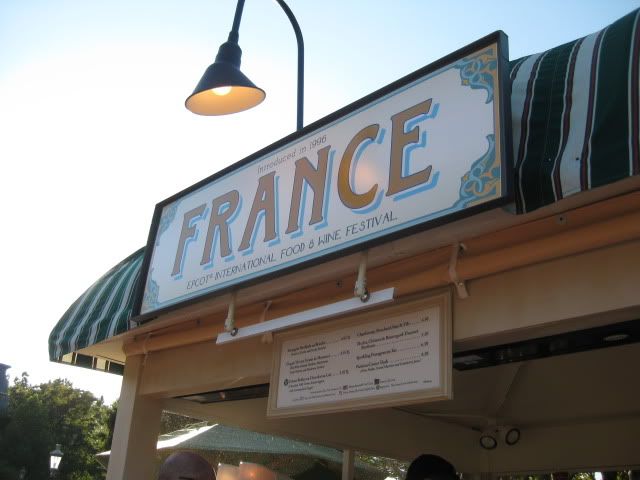 First up: La France for le diner!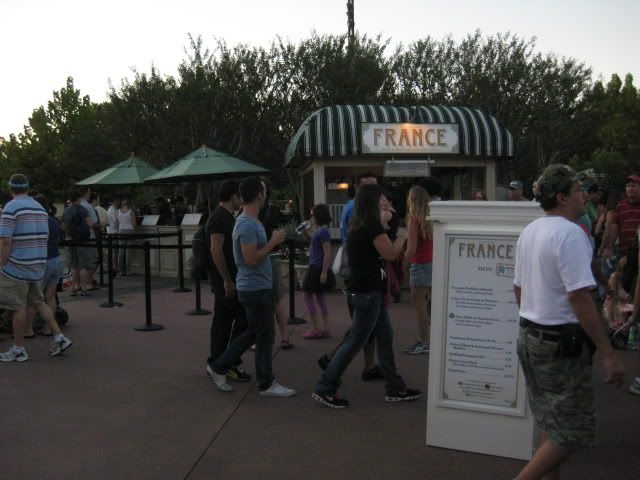 It's interesting to see how they do the lines at Food and Wine. You order first at the registers, then go up to the booth, give them your receipt, and get your dish!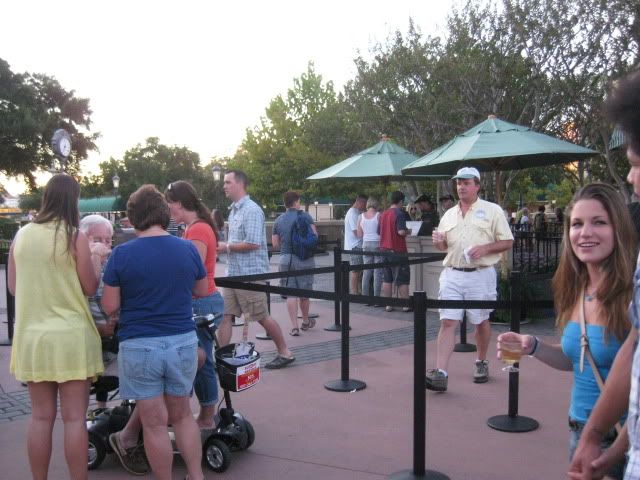 Clearly they're prepared for long lines!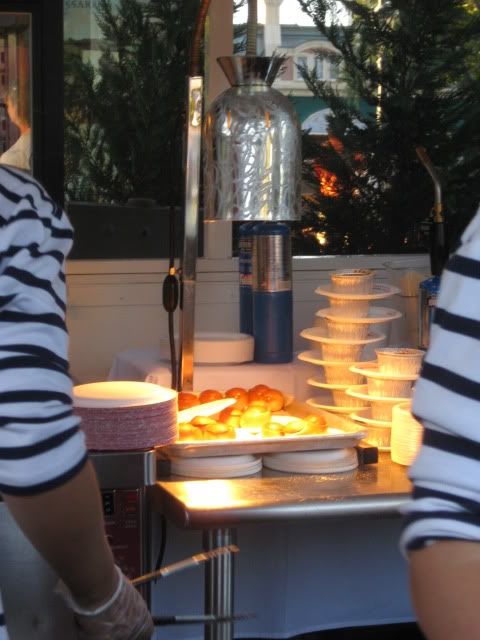 Looking back into France's booth...those are escargot persillade en brioche - that is, snails in a little brioche bun! I wasn't quite brave enough for that, so I went with the coq au vin sur gratin du macaroni instead...
This is red wine braised chicken, mushrooms, pearl onions, and macaroni gratin. It was SOOO GOOD!! You can't see in the pic, but the macaroni gratin was pressed together in this little round disc beneath the chicken...it was lovely, so was the chicken, and the wine sauce was amazing!
The coq au vin gets a "SUPER YUM" for taste and a "brilliant" for value! Sometimes at Food & Wine they give you such skimpy little portions, but this
was a very nice sized dish for $4.95.
Making those last bites last!
As I munched I strolled over to America to catch some of the concert. Some of my fellow cast members at work had been talking about the band, 38 Special, so I thought I'd check them out.
They were pretty good -- they were constantly throwing guitar picks into the crowd, which I thought was fun!
For a Monday night there was a decent-sized crowd out to see them. I hadn't heard of 38 special, but apparently they're fairly big -- some of the people in the crowd were singing along. :)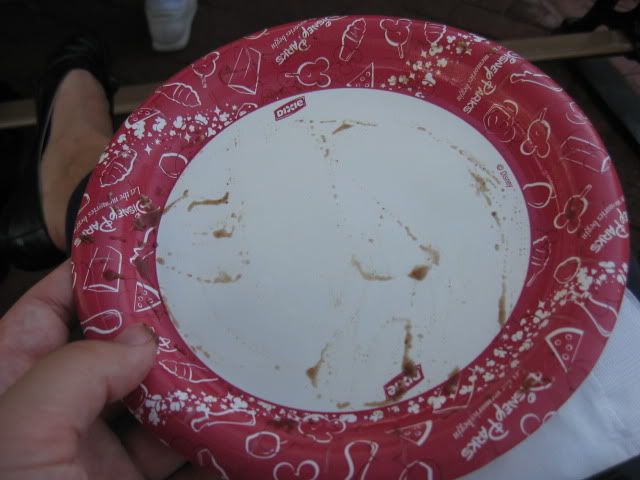 I may or may not have licked my plate clean right there in the theatre and gotten sauce all over my nose...lol!
I listened to one or two songs, then went in quest of dessert. The setting sun was reflecting against the Test Track building, and making World Showcase look so pretty!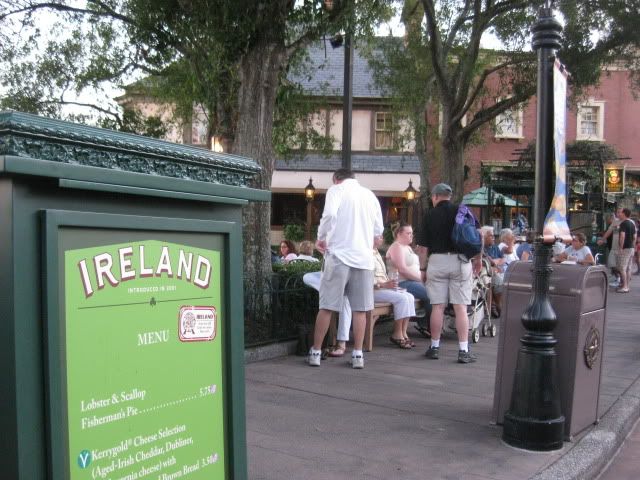 I decided to get my dessert in Ireland. I knew I had to try *something* from this booth -- after all, I lived in Ireland for a year, and I studied the Irish language in college.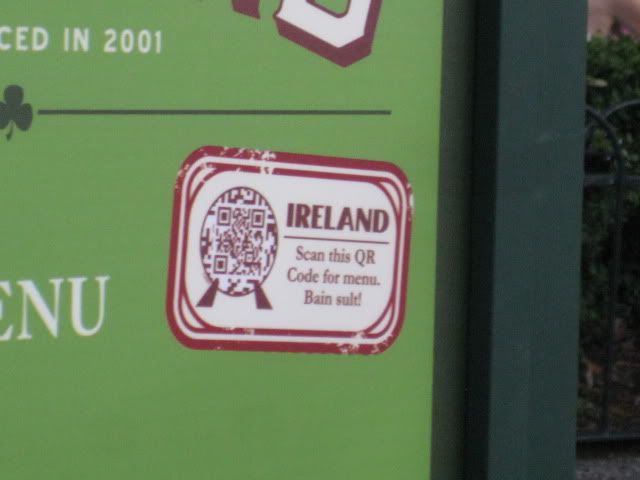 I liked that they had a few words of Irish on the sign! "Bain sult" roughly means "Enjoy!"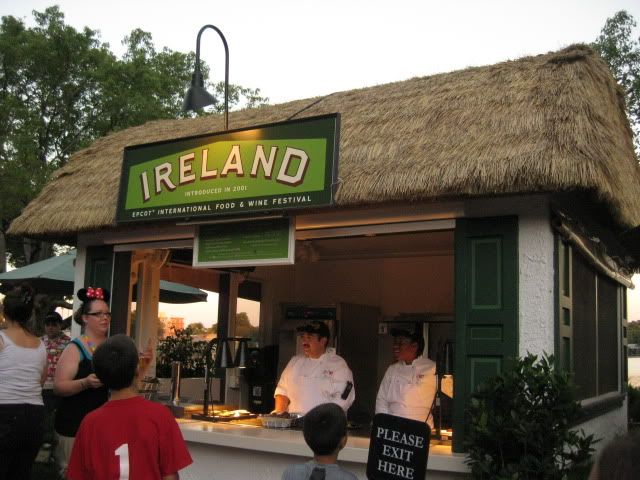 I love the details Disney puts into these booths. Ireland's had white-washed walls, sweet green shutters, and a thatched roof! Sadly the people working there were not Irish, so no slagging about old Dublin days for me...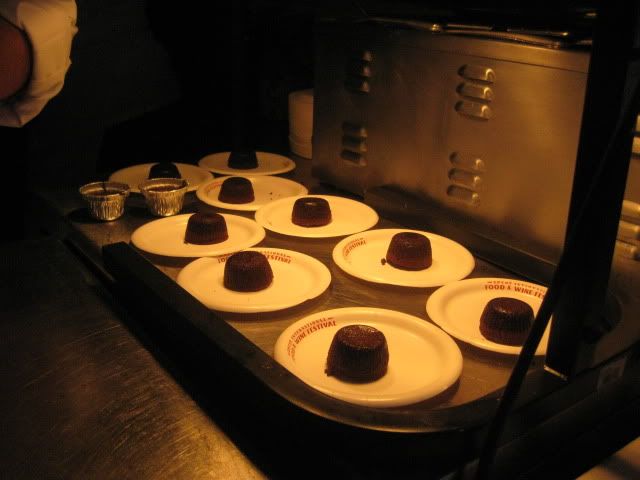 I did, however, get to try the warm chocolate lava cake with Bailey's ganache!
Mmmm...more ganache please, just keep it coming! lol!
I grabbed a pic of the lobster and scallop fisherman's pie that was also on the menu.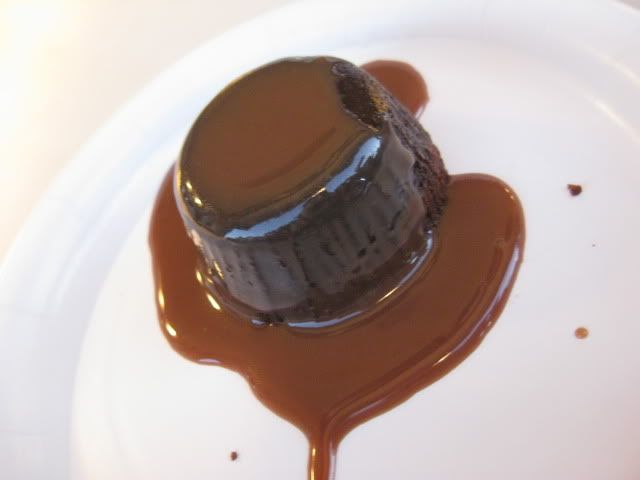 The cake was really delicious - warm, chocolaty, just lovely. The only problem I had was it was so dang small for $3! It felt about the size of a half dollar, or a 2 euro coin. I'd also give the cake a "super yum" for taste, but only a "just alright" for value.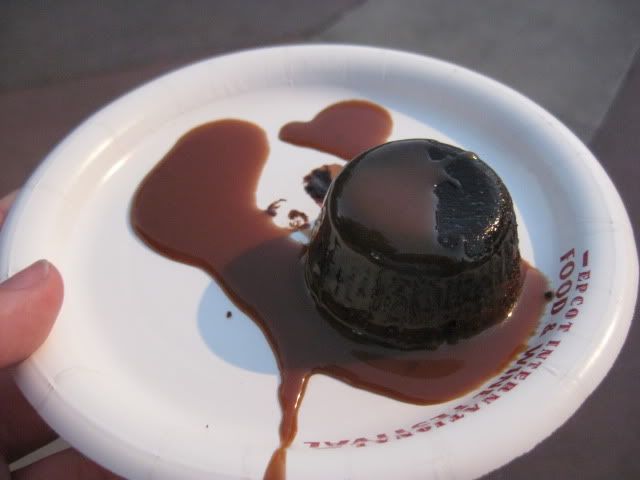 Even if it was a bit overpriced, I did enjoy every bite!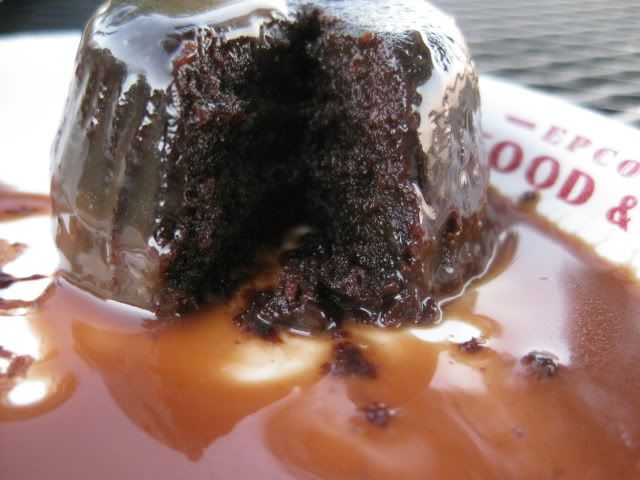 The cake was quite dense, really good chocolate! And the ganache sauce was delish.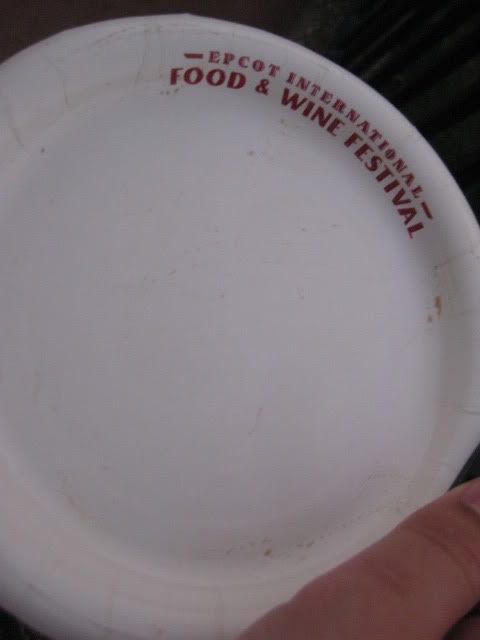 And I definitely left a clean plate with this one!