Hola! I hope y'all aren't feeling too hungry (I know I'm now wishing I had a better dinner than spinach and veggies, lol!) -- because it's time for another Food & Wine post!
Here are Donald and Daisy arrived for it!
Tonight I decided to start with some Hispanic flavors, so I walked round to Mexico...
There was a Brazilian tour group in line at the Brazil booth. How's that for irony? And I'm not even kidding, I took a picture to prove it!
On examining the menu's, I decided to go with an Argentinian dish...
An empanada! Mmmmm...doesn't it look tasty?
My youngest brother Dart, when he was about 4 - for reasons known only to him - desperately wanted a Dora the Explorer play kitchen for Christmas. It was ALL he talked about for months, so there it was on Christmas morning! It came with little plastic empanadas, so my F&W empanada made me think of Dart and his Dora kitchen. :)
Luckily the Food & Wine festival empanadas were not made of plastic. My empanada (isn't that such a cool word?? say it out loud a few times "EM-pa-nada!" Sorry, it's just fun to say!) - ANYway, it was entirely delicious. Warm and meaty and flavorful on the inside, with the perfect crunch and munch to the pastry shell on the outside. It was a good size too for $3.75 -- it gets a "brilliant" for value.
It was quite a busy evening -- the Food & Wine festival is really popular!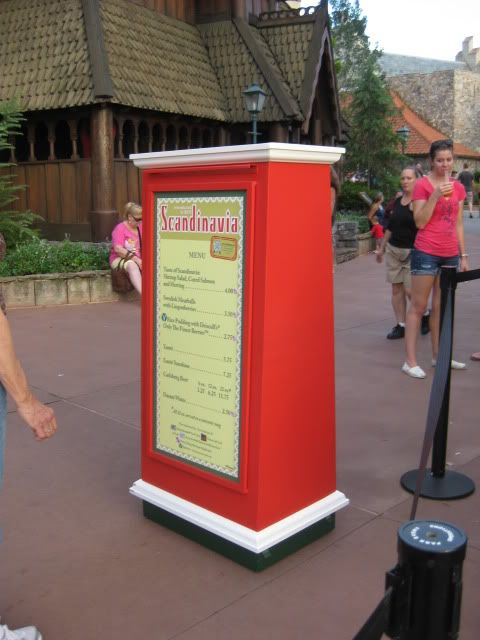 Speaking of Norway, I began to meander in that direction when I'd finished my empanada. I came across the Scandinavia booth!
For design, Scandinavia gets a 10. This booth is just adorable. See the little dragon sticking off the top? It looks like a red and white gingerbread house!
But unfortunately I was less than impressed with the food itself. The dessert they offer is rice pudding with berries...which they also sell all year round in the Kringla bakery. I noticed that the dish at the F&W booth is smaller than the dish at Kringla -- but the price for rice pudding at the booth ($2.75) is more than the price at Kringla ($2.44). Tsk tsk.
I did decide to sample the Swedish meatballs with lingonberries at the Scandinavia booth. Honestly, they tasted like three ordinary (and rather small) meatballs with berries -- they were good, and I liked the addition of the berries, but it was nothing to write home about.
On the up side, I did get to use one of these super-cool dispensers to get my fork. You push the little red tab and the thing shoots a fork or spoon or knife out at you! (well, it shoots it into the little tray anyway ;) )
Onward to China! While waiting in line in Argentina when getting my empanada, the group in front of me was talking about how good the caramel ginger ice cream from China had been. That had decided me on what I wanted for dessert!
The booth for China was really cute too. I love the detail Disney puts into these things...the booths are only there for the month that Food & Wine is going on, but obviously Disney took the time to make them really beautiful!
I ordered my ice cream and, as usual, took my receipt along to the counter to get it. It's fun to look back into the kitchens, because you can see some of the other items being prepared.
In China, they had these neat tea pots that they would pour broth out of, to go on top of the pot stickers. The cast members saw me taking pictures, so the guy pouring the broth struck a pose.
It was a nice-sized container for $3.50, and very delicious -- I scooped up every last morsel!
It was a positively glorious evening. The setting sun made World Showcase just glow. I stood staring out at it for a few minutes, then decided to explore China's gardens a bit...
There was a tumbling performance going on...the crowds were so thick you could barely get a glance of the performers!
I love this little path behind the pond, it feels so peaceful and secluded, like it's your own personal discovery.
Reflections of China...but not the show. ;-)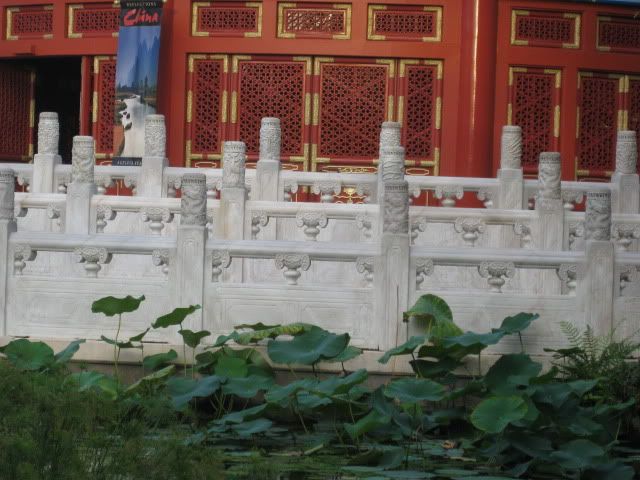 I strolled over to America to see who was on at the "Eat to the Beat" concert -- it was Billy Ocean. I stayed for a song or two, then strolled towards the exit.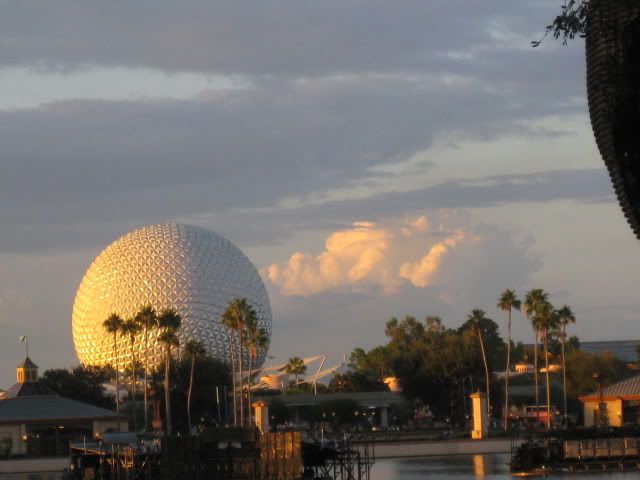 Good night Epcot!