So if we call the chocolate caramel cupcake from the Wilderness Lodge our "fun" Halloween cupcake, this next one I would call "

autumnal gourmet

."
Where's it from??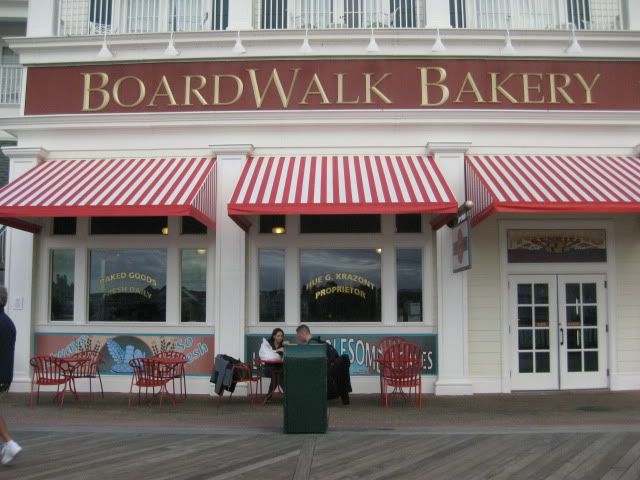 ...why the one and only

Boardwalk Bakery

of course! (lol, yeah. I'm a little in love with this place!)
There are lots of pumpkins decorating the counter of the Boardwalk Bakery, so it be no surprise that the gourment Halloween cupcake is a

PUMPKIN cupcake

!
It was a thing of beauty...
I've come to expect light-as-air icing from Boardwalk cupcakes, and Mr. Pumpkin here didn't dissapoint. The icing tasted like a super light, creamy pumpkin pie...only better than pumpkin pie, I can't even describe it.
But the cake really impressed me as well. I wonder if it was a spice cake...there was certainly a bit of

cinnamon

in it! It melted in your mouth, and complimented the fall flavors of the icing to perfection!
The center was filled with a pumpkiny, cinnamony, sweet mousse/cream -- absolutely wonderful! I didn't want to finish it b/c then it'd be all gone, lol!
The little pumpkin topper was made of a white-chocolaty-like substance. (I know, such precise foody lingo...not!)
Once again the Boardwalk Bakery hits a

home run

...a DELISH fall cupcake!
One last fun Halloween fact about the Boardwalk...did you know they do

trick or treating

? Yup! You can go along to the different restaurants, shops, the lobby, etc. and get some candy - then they also had Halloween games with little trinkets as prizes and a dance party with a DJ going on out on the lawn:
They even had Donald Duck out takin' pics (on the left)...and I loved the giant inflatable Jack o' Lantern...an excellent way to celebrate the spooky day!