Hello peoples!
First off is the obligatory apology: really I did mean to post more often this week! But every day I've been working, and every evening I've been so tired - I have to get used to standing on my feet for nearly eight hours a day!
It should be quieting down soon, though - I won't be working so many days in a row, and I am determined to be a more regular blogger!
ANYway, it is Monday, right?
Hmmmm...how about we start off the week with an

Oreo cupcake

from the

BOARDWALK BAKERY

!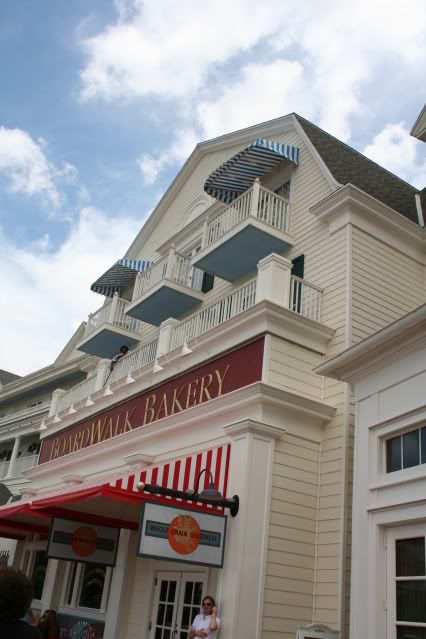 If you have never been to the Boardwalk Bakery, then you defs need to get there on your next trip.
I have to say: they may have the

best cupcakes on property

.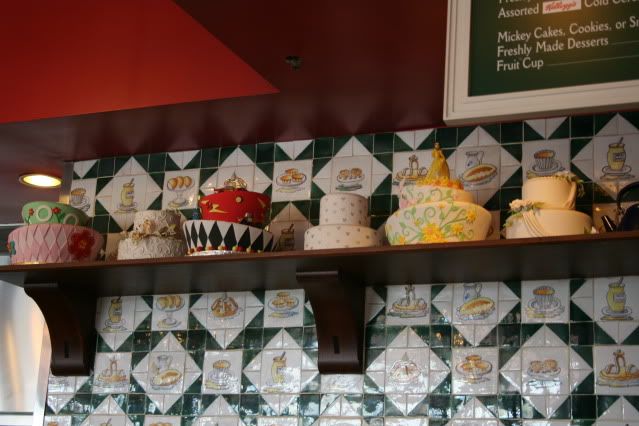 The theming here is so cute too - I love the tiles and the cakes lined up on the shelf.
So. One afternoon I moseyed over to the Boardwalk for lunch.
Nooo, this isn't the cupcake yet! I happened to get the mozzarella tomato sandwich and it was really good, so I figured I'd share the pic. The roll it's on looks normal, but actually it's a focaccia roll they make at the Boardwalk -- really good.
Since the bakery only has outdoor seating, I took my lunch up to eat in the pretty lobby.
Back to the sweets -- this was the cupcake! It was vanilla cake with the

lightest

vanilla icing you can possibly im
agine. It tasted like the Boardwalk bakers had reached up into the sky and whipped it up from a handy cloud!! And inside there was a just-as-light

Oreo cream filling

.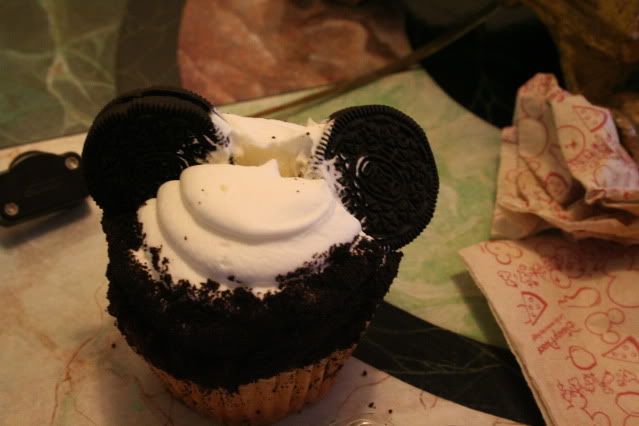 Can you say Mmmmmm?
The big freshly-made Disney cupcakes normally run about $4.25 (with tax). Sometimes you cringe when you pay that much for the cupcake, but let me tell you: this one was DEFINITELY worth it.
Also, while the vanilla one in this picture was lovely, I have also heard they sometimes do a CHOCOLATE Oreo cupcake, and I can only imagine how divine that would be!