I've been a cast member for about three weeks. It's been really

fun

and really

challenging

, both in ways I didn't expect.
Most of the day I spend between the entrance of the resort and the lobby. I welcome guests, escort them in, and sometimes help them get checked in.
It's really neat to see all the activity going on. We get quite a fair number of brides coming through. I love to see their dresses and bouquets, and the bridesmaids dresses too of course. There was this one gorgeous bride with the

loveliest purple bouquet

.
Sometimes you'll see the most unexpected things. One afternoon a

big red double decker bus

pulled up. I realized that it was one I had seen before -- it was the bus that used to be in parades and carry characters around

Epcot

. Eventually we found out that it had been put up for sale, and a cast member had bought it - he was staying at the resort and decided to drive his family over in it! That's pretty cool private transportation!
Another thing that's fun is when the same guests, coming and going, remember you. Sometimes a couple or famiy that I escorted in when they arrived will come back out whenever they have a question. One day there was one such family waiting for the valet to bring their car, and the dad comes up to me and says, "Emma, tell me the fastest way to get to Coronado Springs!" And when I said, "Oh, I'll get you a map," he says, "No, I want you to tell us!"
lol, he was joking, but I guess I'll have to start memorizing streets around here more (I fully admit, I still rely on the

purple signs

a lot when driving around property). Anyway, I got the map and marked the route on it, and waved them on their way. :) It's fun when you get to be part of a guest's vacation like that.
But what I maybe like best about being a cast member is talking with the kids. Whenever a little girl goes past in a princess gown, of course I say "Hello Princess Cinderella!" (or whatever the dress is), and sometimes I add a curtsy too! In fact, even if the little girl is just wearing a Rapunzel shirt, I usually call her "

princess

" - lol!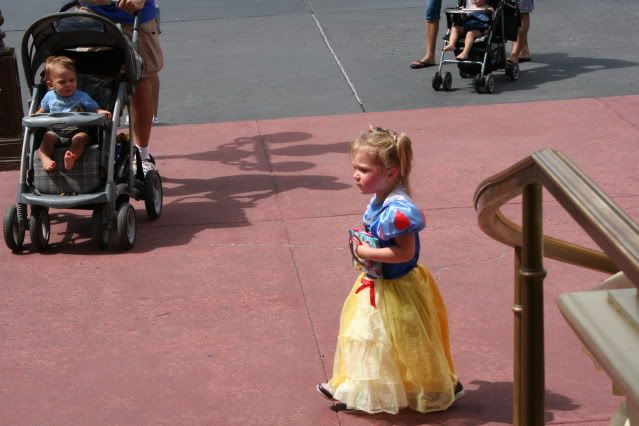 I love seeing the little princesses around the parks too. When I get married and have a daughter, she is so going to have SO many princess dresses!
The little boys like to give high five's and talk about how brave they were when they rode Tower of Terror. I also love the

pin traders

. There are some kids that aren't even looking for a particular pin, they just love to trade - you can tell they feel so grown up picking out the one they want and then giving one back!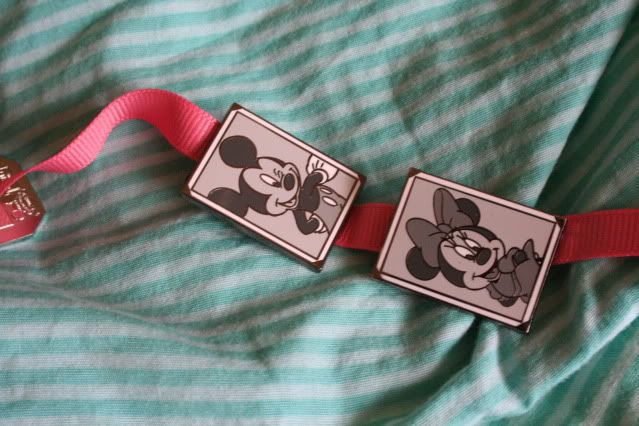 I love these black-and-white photograph pins I've been seeing around!
One day there was a polite little boy trading, and he took the stitch pin he had picked out, but he forgot to give me one back in return. He had the trader out, he just forgot to hand it to me. The dad noticed though, and he says "Buddy, you gotta trade, give her one back. You essentially stole that pin."
He was joking, of course, and the idea of this sweet little boy stealing a pin just had us all laughing.
Another "

cute kid

" moment was one day when I was showing a family to the elevators. When the elevator came, the little daughter (probably about four), bounds into the elevator

squealing with delight

, as if it was Peter Pan or a really fun ride! I can only imagine how excited she was going to be when she actually gets into the parks. :)
One of my favorite moments happened just the other day. There was a Mom and Dad and a little girl waiting for their bus home, sitting on the bench outside the lobby. The little girl had *so* much energy -- she was

bouncing like Tigger

and dancing around, and talking to us about her favorite rides.
Finally she stopped moving and was just standing smiling up at me, so I started hopping in place, and then she started hopping. I stopped suddenly, so she stopped. Then I started again and so did she - and so on. Soon we were both giggling, and I could see the Mom out of the corner of my eye was taking a picture of us.
I have to say, it's pretty cool, spreading the

pixie dust

as a CM. :)